High quality, 2 in 1 dehumidifier
and air purifier Puredry
PD 12L Design Low Energy.

Puredry PD 12L is specially formulated to handle moisture directly with the lower possible power consumption.
New unique designed, two in one dehumidifier and air purifier, saves up money from running cost by keeping your electricity bill as low as possible. If you need a dehumidifier  for a house up to 80m2 and you want to clean the air at the same time from harmful microparticles of dust, pollen, chemicals etc. then this is the best dehumidifier for you. The new Design series is the best solution to the problem of energy consumption. Now we can say with certainly that the Puredry Design Low Energy Series creates a new benchmark from the rest of the market.
Enjoy the clean atmosphere in your room silently during the night, even in cases where absolute peace is required. This ensures healthy air that is free from dampness and particulates with low noise level.
In any case of power failure, the PD 12L is automatically restarted from the exact point where it was before the interruption. The functions and settings have been selected works normally.
For maximum performance of the dehumidifier during operation, the smart defrost function is automatically activated. In any case ice is created, the  compressor will stop automatically and the fan will continue to operate until the ice completely disappears.
You can select the hours of the product operating from 1 to 24 hours. This way you can save unnecessary hours of operation of the machine.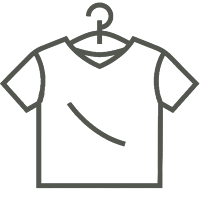 By selecting Cont mode, place the washed clothes 30-40 cm away from the dehumidifier and close the door. The PD 12L will dry your clothes with fresh air free from moisture, dust, unpleasant smells, bacteria and suspended particles.
PD 12L has two three-stage carbon filters, which contain dust, suspended solids, unpleasant smells and cigarette chemicals. Filter cleaning should be regular.
                             5 years platinum warranty to all Design & Famous Series
All Puredry household dehumidifiers are accompanied by a 5 year warranty. The high quality of structure, as well as  the quality raw materials, guarantee the perfect operation of Puredry products for many years even in the most demanding operating conditions. This competitive advantage of Puredry's dehumidifying products is our commitment to our customers for the high quality and fidelity of our products.
Αποσπώμενη Δεξαμενή Νερού

Ηλεκτρονικό Σύστημα Ελέγχου
Νέα μοναδική σχεδίαση, 2 σε 1 αφυγραντήρα και καθαριστή αέρα, εξοικονομεί χρήματα από τα έξοδα θέρμανσης κρατώντας τον λογαριασμό του ηλεκτρικού ρεύματος όσο το δυνατόν χαμηλότερα
Νέα μοναδική σχεδίαση, 2 σε 1 αφυγραντήρα και καθαριστή αέρα, εξοικονομεί χρήματα από τα έξοδα θέρμανσης κρατώντας τον λογαριασμό του ηλεκτρικού ρεύματος όσο το δυνατόν χαμηλότερα
Τύπου desiccant αφυγραντήρας με ζεόλιθο, λειτουργεί αποδοτικά σε θερμοκρασίες από 1-37°C. ιδανικός για μόνιμες κατοικίες που δεν θερμαίνονται ικανοποιητικά, εξοχικές κατοικίες, τροχόσπιτα, σκάφη, γκαράζ κτλ.
Τύπου desiccant αφυγραντήρας με ζεόλιθο, λειτουργεί αποδοτικά σε θερμοκρασίες από 1-37°C. ιδανικός για μόνιμες κατοικίες που δεν θερμαίνονται ικανοποιητικά, εξοχικές κατοικίες, τροχόσπιτα, σκάφη, γκαράζ κτλ.